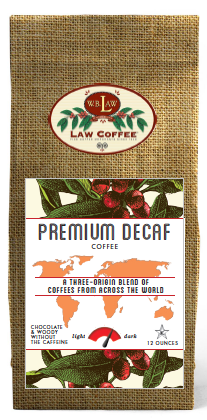 Premium Decaf Coffee--12 oz bags
Decaf coffee: coffee not for the caffeine seeker, but for the consumer that just loves its taste!  A multi-origin blend of coffees kissed with a slightly dark roast profile.  
Most consumers don't expect much from a decaf coffee, but we are proud of this coffee's chocolate and woody notes in your cup.  So if you're looking for a decaf that you can enjoy, we have the coffee for you!
We recommend to brew this using 2.5oz per 64oz of filtered hot water.  (Ratio may differ due to size of coffee maker)
Roast Level (1 lightest to 5 darkest): 4
Star K Kosher
Freshly roasted
Decaffeinated